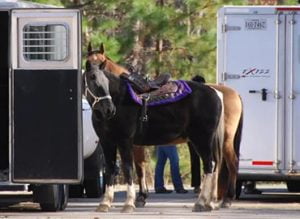 When you transport a horse with a horsebox or trailer you need to make sure you:
have the right driving licence for the weight of your vehicle or trailer
have an operator licence (if you need one)
are qualified to transport horses if you're travelling for over 8 hours
do not overload your vehicle or trailer
carry out regular safety checks
have a valid MOT for your vehicle or trailer
follow rules on animal welfare
Driving licence rules
You need to make sure you have the correct driving licence category. This will depend on the size, type of vehicle you're using, and when you passed your driving test.
You can check online to see what vehicles you can drive.
You should check if you need a Driver Certificate of Professional Competence if you're driving a horsebox that has a maximum authorised mass (MAM) over 3,500kg.
You can reado more information here – https://www.gov.uk/government/publications/guidance-for-horsebox-and-trailer-owners/transporting-horses-in-horseboxes-and-trailers